B&H Mental Health Project
The Mental Health Project in Bosnia and Herzegovina represents a result of continuous commitment of relevant entities' ministries of health to continue the mental health reform in Bosnia and Herzegovina. The reform of mental health care in B&H started in 1996 with putting community care in a focus, unlike a traditional approach based on hospital treatment of patients with mental disorders.
Having in mind multiple needs of mental health care system in B&H, the relevant entities' ministries cooperating the Swiss Agency for Development and Coordination (SDC), have started activities on a project that allows continuation of improvement of mental health care in B&H. The ultimate goal of the Project is an improved mental health of overall population, as well as abilities of policy creators and responsible institutions in achieving European standards in mental health care system in B&H. The specific Project's objectives are:
A. Improved administrative and legislative framework that allows efficient work and processes in mental health care in both B&H entities.
B. Human resources educated to provide quality services in mental health care.
C. Providing quality mental health care in the community is supported by Primary Health Centres management as one of the reform priorities.
D. Strengthen capacities to fight stigmatisation and discrimination related to mental disorders.
Phase 1 activities
In the second half of 2010, the RS Agency for Certification, Accreditation and Quality Improvement (ASKVA) had, in accordance with the Contract signed with Association XY as a part of B&H Mental Health Project, started activities on achieving the C project goal. These activities are directed into achieving two specific goals:
a) improved understanding of Primary Health Centres' (PHC) management and Social Welfare Centres' (SWC) directors about the importance and role of Community Mental Health Centres (CMHC) within the PHC organizational structure and
b) establishing better cooperation between CMHC and other PHC departments, other relevant sectors and local community.
To achieve these goals through the project activities, the Agency had proposed to organize four series of seminars for PHC directors that have CMHC within its organization, SWC directors, CMHC heads as well as heads of psychiatric clinics and departments of general hospitals in the Republic of Srpska and Brcko District and to conduct the research amongst seminars' participants on the importance and role of CMHC within PHC. In order to achieve the goal on the importance and role of CMHC within PHC, the Agency had designed a research questionnaire that was filled in by seminars' participants at the initial seminars and later, after the third series of seminars. The results of the initial research questionnaire had been analyzed and those served as guidelines to create seminars' programs.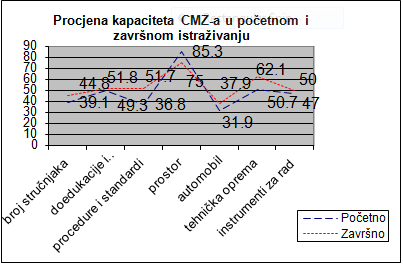 With this research we have investigated differences in opinions and attitudes of examinees on CMHC human and technical capacities, CMHC cooperation with other stakeholders (family medicine service and PHC, psychiatric clinics/departments, SWC, local community), challenges in inter- and intra-sector cooperation, attitudes of participants towards mental health (CMHC, mental health professionals, persons with mental disorders) and knowledge of basic terms in mental health. The analysis and processing of the questionnaires have shown that most of the examinees are partially (not) satisfied with CMHC resources. The examinees are the most satisfied with premises (75%), then with furnishing and technical equipment (62,1%) and professional instruments and additional education (51,8%) and the least satisfied with number of available experts.
In the part related to cooperation between departments and sectors, the highest satisfaction level was stated towards cooperation with PHC organizational departments (over 70% with family medicine, 61% with emergency units, and 58% with psychiatric departments/clinics). The cooperation with SWC was solidly graded (satisfied 59% of examinees). On the other hand, satisfaction with cooperation with users associations (23%) and NGO (27%) was less.
With series of seminars conducted between December 2010 till April 2012, where our lecturers presented topics selected as priorities by seminars participants themselves, as well as through group work of participants, the Agency had carried out activities on establishing and developing cooperation between CMHC and other mental health institutions. Also, we have conducted analysis of fulfilment level of CMHC accreditation standards focused on cooperation of CMHC with other institutions including SWC. Cumulative, 279 representatives of the institutions included in this part of the B&H Mental Health Project participated at the seminars, or 59 PHC managers an 13 their representatives (assistants/deputies), 60 CMHC heads and 35 their representatives, 45 SWC directors and 40 other SWC representatives and 17 heads of psychiatric clinics/departments and 10 their representatives.
The questionnaire on CMHC cooperation fulfilment level was filled in by 21 CMHC teams. By processing the questionnaires we have learned that 13 CMHC (61,9%) have regular meeting with family medicine teams and create joint protocols in order to improve mental health care, and 20 CMHC teams (95,24%) especially cooperate with family medicine teams while treating and monitoring patients with mental disorders. All teams are familiar with work of other health and social welfare institutions within their area, including hospitals for treating, rehabilitation and re-socialization of patients, 11 teams (52,38%) have signed cooperation protocols with those institutions and 6 CMHC (28,57%) have regular meetings with hospitals' representatives.
It has proved that the lack of motivation of management of PHC, CMHC and SWC to work on implementation of plans based on accreditation standards, especially on those related to cooperation between CMHC and other mental health services, had been identified as one of the key obstacle in implementation of the project activities. Active participation of the RS Ministry of Health and Social Welfare in the Project, as well as positive practice experiences shown through presentations of accredited CMHC and non-accredited CMHC that developed strong cooperation with institutions from the area while improving mental health care of citizens, have greatly influenced to rise awareness on importance of successful cooperation.
Evaluation of the seminars and average grades higher then 4,5 (scale 1–5) given by the participants to evaluate all lecturers and organisation of every seminar, give us the right to say with great pleasure that the participants have valued work of ASKVA on the project activities to achieve the C goal as very useful and stimulating for further improvement of their work in the field of providing mental health care to citizens.
Phase 2 activities
The successful cooperation between ASKVA and Association XY in the B&H Mental Health Project has been continued with project activities that include accreditation process of 10 CMHC in the Republic of Srpska along with training of CMHC accreditation assessors, all financed by the Swiss Agency for Development and Cooperation (SDC).
The end of implementation of this phase has been scheduled for middle of 2013.